John D Ferguson
Second Generation
From New York to Iowa
| | |
| --- | --- |
| | <![if !vml]><![endif]> |
Birth ? 31 Dec 1794/95, Albany, New York
Death 22 Jul 1883 Massillon, Cedar, Iowa
1st Spouse & Children
Asenath Hull 1799 – 1829
2nd Spouse & Children
<![if !vml]>
<![endif]>Delilah ELIJAH 1802 – 1880
Parents
Abt 1760 – abt 1840
Abt 1757 – abt 1820
John D Ferguson was born likely at the Hermitage in Niskayuna, New York near Schenectady in 1794 to David Ferguson and Martha (March) Ferguson.  He had a sister named Jane. His middle name is likely David but could have been Duncan.
John D and Asenath
John D. Ferguson was married twice. Asenath Hull his first wife was born in 1799 and died a young age in the year 1829 for reasons unknown. John D was only about 19 years of age and Asenath a young 16 when they had their first child Abigail. They would have 7 children together. Asenath died at a young age of 30 years old. In the August 7, 1820 census, John D is in the early beginnings of forming his own family neighboring his father David Ferguson and mother Martha.
Their son David Ferguson, likely named after his grandfather David Ferguson from Scotland, has the most well-known history of the children of this couple. He was indicted in the Anti-Rent war, the first civil rights movement since the American Revolution. He was indicted along with many neighboring farm boys. He was not a criminal though and eventually released. Two of David's sons John D and Robert P become respected men of their community and were Civil War Veterans for the Union.
Samuel Ferguson is listed as a "Farm Servant" in the following censuses to a neighboring farmer, looks to have never married, and reaches an old age never leaving the area.
The daughters married neighboring farmers to some who were respected men of the community.
John D and Delilah
John D now widowed married Delilah Elijah for his second wife.
<![if !vml]>
<![endif]>
Together they had 7 children.  All together John D's children count would be 14. In the 1840 census, it lists 12 persons in his household; among one likely living with him was his father David Ferguson aged almost 80 years. The census states that they were involved in agriculture.
Of their children, John is believed to have a boot store in Andes, but he died a young age, leaving a widow referred later in Andes historical society as a Mrs. John Ferguson. She became a dressmaker.  Their daughter married a Ballentine, the son of a banker in Andes. Mrs. John Ferguson is among the last of this family in Andes.
James Ferguson is the most well-known son of this family due in part because he is of our direct family line to Claude Ferguson. He was once a photographer. He grew a beard due to what is believed because of his teeth protruding out according to family. He moved to Iowa with his family and later moved to Gering Nebraska following the Oregon Trail in about 1877. He is among the first settlers in that area. He was also a drummer.
Duncan Ferguson married and moved his family to Iowa. According to a biography in Iowa, Duncan received a good education in the public schools and academy of Andes. At the age of twenty he began to engage in mercantile pursuits by serving an apprenticeship of ten years in a store in New York. In 1866 he married Margaret Agnes Richmond. Three years later he came to Iowa and located at Clarence, Cedar county,  where for six years he was engaged in the mercantile business. He was a member of the M. E. church since he was twenty-six years of age and a life-long republican, casting his first vote for Abraham Lincoln.
Alexander Ferguson also moved his family to Iowa.
William D. Ferguson was a farmer and also moved to Iowa with his family.  He had a son named John D and his son moved to Weld County in Colorado.
 How they lived in Andes
John D and his family lived mostly as farmers. Their house was probably simple. Their children went to the early public education system one room school houses in a district called ED1. They lived through the Anti-Rent war crisis that was a big historical event especially for New York and Delaware County. They had a large family, which was quite common of the times. They most likely listened to Catskill mountain music, a kind of bluegrass music. The children likely attended an occasional barn dance in their early adult years. The biggest historical event that they lived through was the Civil War.
Below is a pioneer home in Andes that show the typical life of farmers. We do not know who these people were but it could have been some of our relatives or their neighbors.
<![if !vml]>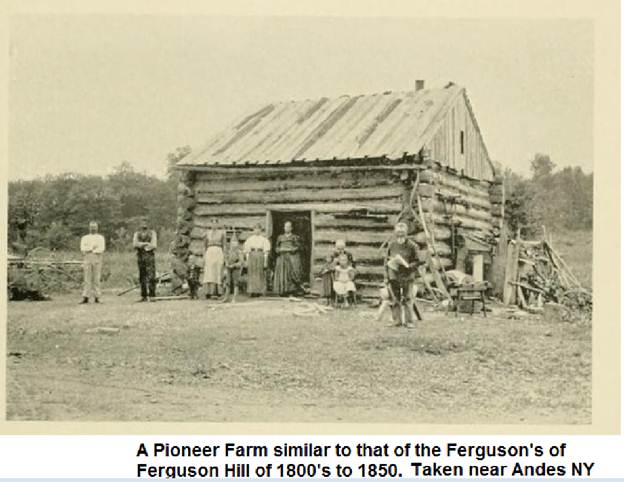 <![endif]>
Out of Andes to Iowa
Isaac Samuels acquired the land, where the cemetery and farm was in 1874, who also acquired adjacent land from Henry Field. We do not know the details, but the Homestead acts probably encouraged them to move on to better farmland in Iowa.  James Ferguson his son is seen in a census in Clarence Iowa in 1770. By this time, some people who left Andes due to the Anti-Rent war conflict left to Iowa and found better fertile ground. The word probably got back to Andes especially for farmers who were tired of picking fieldstones off the property.
There appears to be a noticeable split among the family, where John D's first children pretty much had their roots in Andes were established in the community and then his second set of children from Delilah moved on to Iowa.  John D and Delilah was already well advanced in age and one wonders why they would move. We do not even know how they traveled either by wagon and oxen or by train.
Delilah died in 1880. Here is a census that shows that he is a widower.  You can take note that he states his father David was from Scotland and his mother Martha was from Massachusetts. He appears to be retired as his occupation is now "at home". It states he is 85 years old. He is living with his son William D. who is a farmer.
<![if !vml]>
<![endif]> 
<![if !vml]>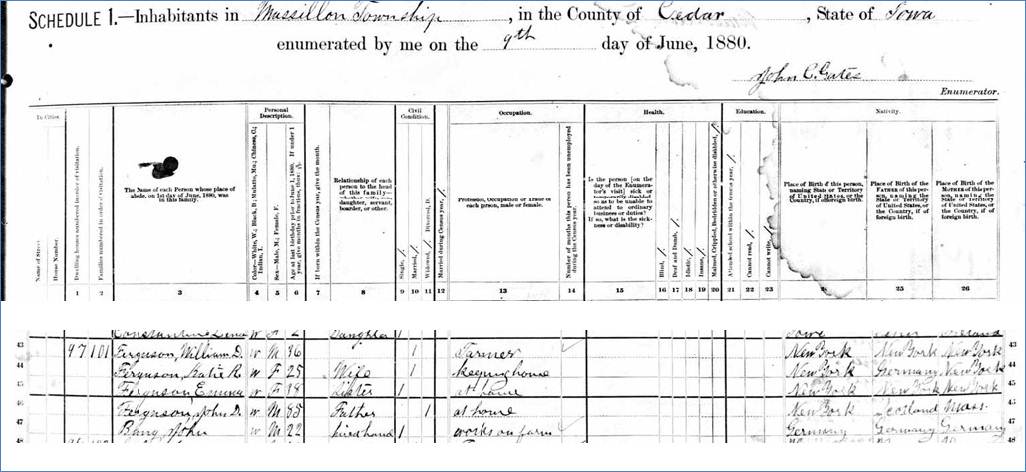 <![endif]>
Death
Both John D and Delilah died only a few years apart. She died on April 19, 1880 and he died Jul 22, 1883. They are buried in Clarence Cemetery, Clarence, Cedar County, Iowa, USA
<![if !vml]>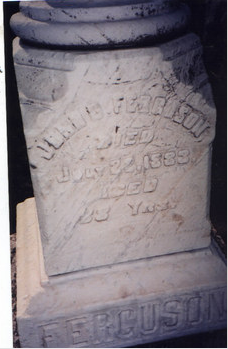 <![endif]> <![if !vml]>
<![endif]>